You want to connect your company's phone system to the cloud and enjoy the benefits of VoIP. One of the first questions that comes up: should I go with hosted PBX or SIP trunking?
First things first, here's the essential difference between the two:
Cloud PBX is a cloud-based phone system solution entirely handled by a third-party service provider. SIP trunking connects your existing on-premise PBX equipment to the internet.
When you know you'll be making calls over the internet instead of the traditional copper wires, you need a setup that will serve your company's needs now, as well as in the future as you potentially grow.
To make your decision, it's important to look at VoIP from all angles: finances, logistics, business expansion, and implementation. In this guide, we're taking you through them all and helping you make the most informed decision.
You can jump straight into each difference between hosted PBX and SIP trunking right here:
Initial cost of setup

Ongoing costs

Maintenance and technical expertise

Your company size and expansion

Geographical flexibility

Call quality

Security
What is a Cloud PBX Service?
A cloud PBX service is a telephone system that's managed completely off-site by a third-party service provider. It connects directly to the public switched telephone network (PSTN).
In other words, a company that implements a hosted PBX solution doesn't have to own or maintain any infrastructure, equipment, or software just to have a reliable voice communication solution.
You may also come across virtual PBX, hosted PBX, cloud phone system, or hosted VoIP as other names for Cloud PBX.
Benefits
Cloud PBX is deployed quickly and easily, often within a day. Because it's provided by an Internet Telephony Service Provider (ITSP), all you need for cloud PBX to start using VoIP communications are:
IP connectivity

Internet connection
With cloud PBX, there's no need for on-premises PBX (Private Branch Exchange) equipment / Telephone system. You'll never have to worry about maintenance costs, PBX software upgrades, or service downtime.
Cloud PBX offers many benefits that extend to standard VoIP (Voice Over Internet Protocol) services, such as:
Managing and routing incoming calls

Handling transfers and holds

Call recording

Conference calling

Automated messages

Voicemail
There's no high setup cost of new hardware, equipment upgrade, or replacement. This offers cost savings and efficiency. Cloud PBX allows small businesses to receive PBX service easily.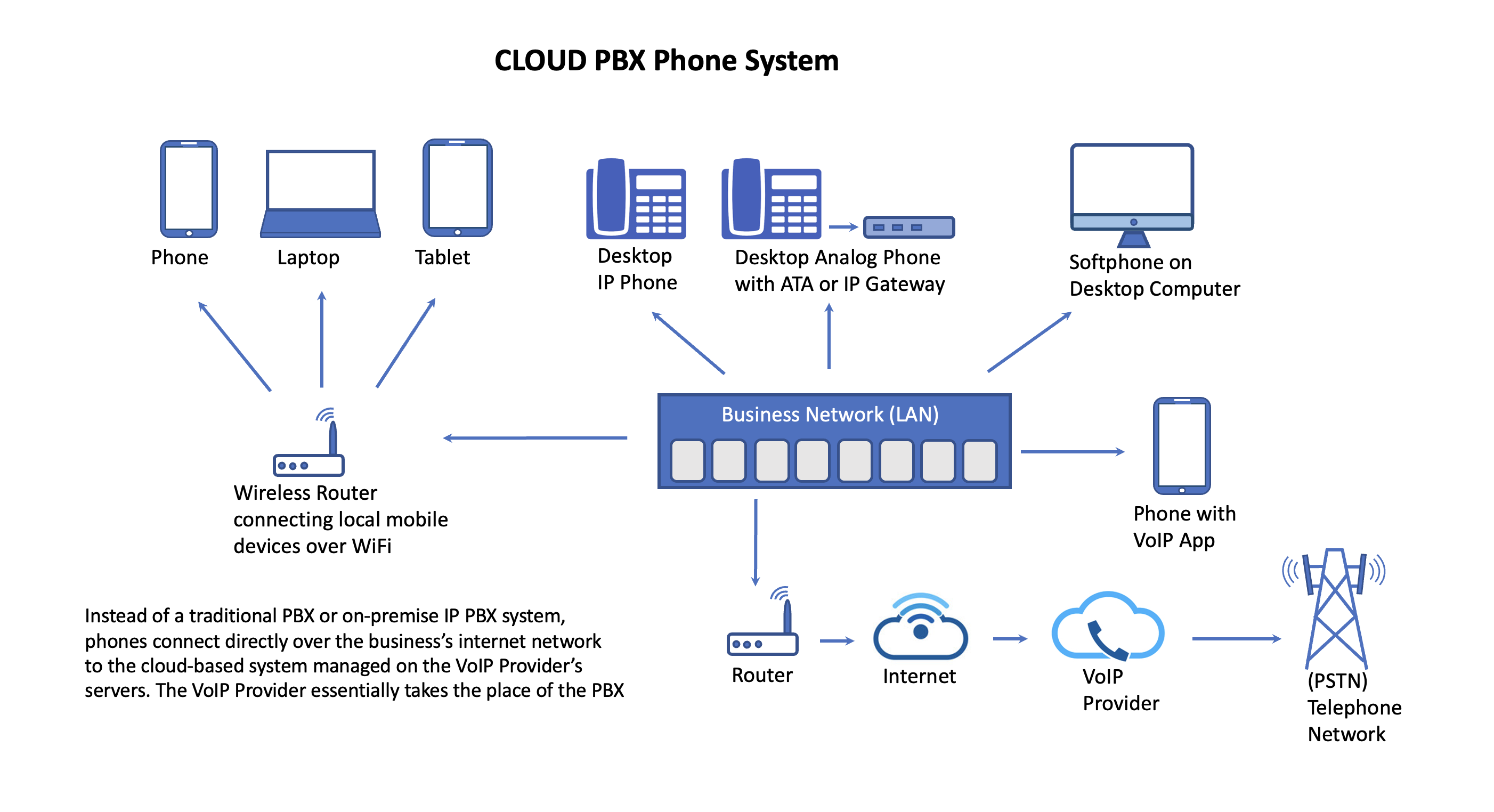 What is SIP Trunking?
SIP trunking is a VoIP service that connects your existing PBX to the internet. It enables you to use your company's on-premise hardware PBX. It's already installed and managed on-site by your own IT staff. A SIP trunk is a direct virtual connection between the two infrastructures: your PBX equipment and VoIP.
SIP trunking replaces traditional landlines and offer huge versatility. They don't just carry voice, but also video, emails, and other data, all on the same line. This eliminates the need for additional lines you'd otherwise need to access the internet or send faxes.
Unlike cloud PBX, where a third-party provider handles all required equipment and software on their premises, SIP trunking requires one of two things:
An IP-enabled PBX on-site, or

A VoIP gateway to connect your traditional PBX to the cloud
This will depend on your current business phone system.
Benefits
Without SIP (Session Initiation Protocol) in place, your business communications will rely on separate structures of voice and data communication. This old system can't handle large volumes of calls. You might be unreachable to your customers in crucial moments.
As a result, you might see a company's continuity break down.
With SIP trunking, communication becomes reliable and speedy. This includes:
Immediate call routing and recording

Multimedia messaging

Video conferencing

Instant data exchange
In other words, if you already have PBX equipment in place, switching to SIP trunking is not only easy, but recommended. You'll enjoy more features and a better telephone service compared to traditional phone lines.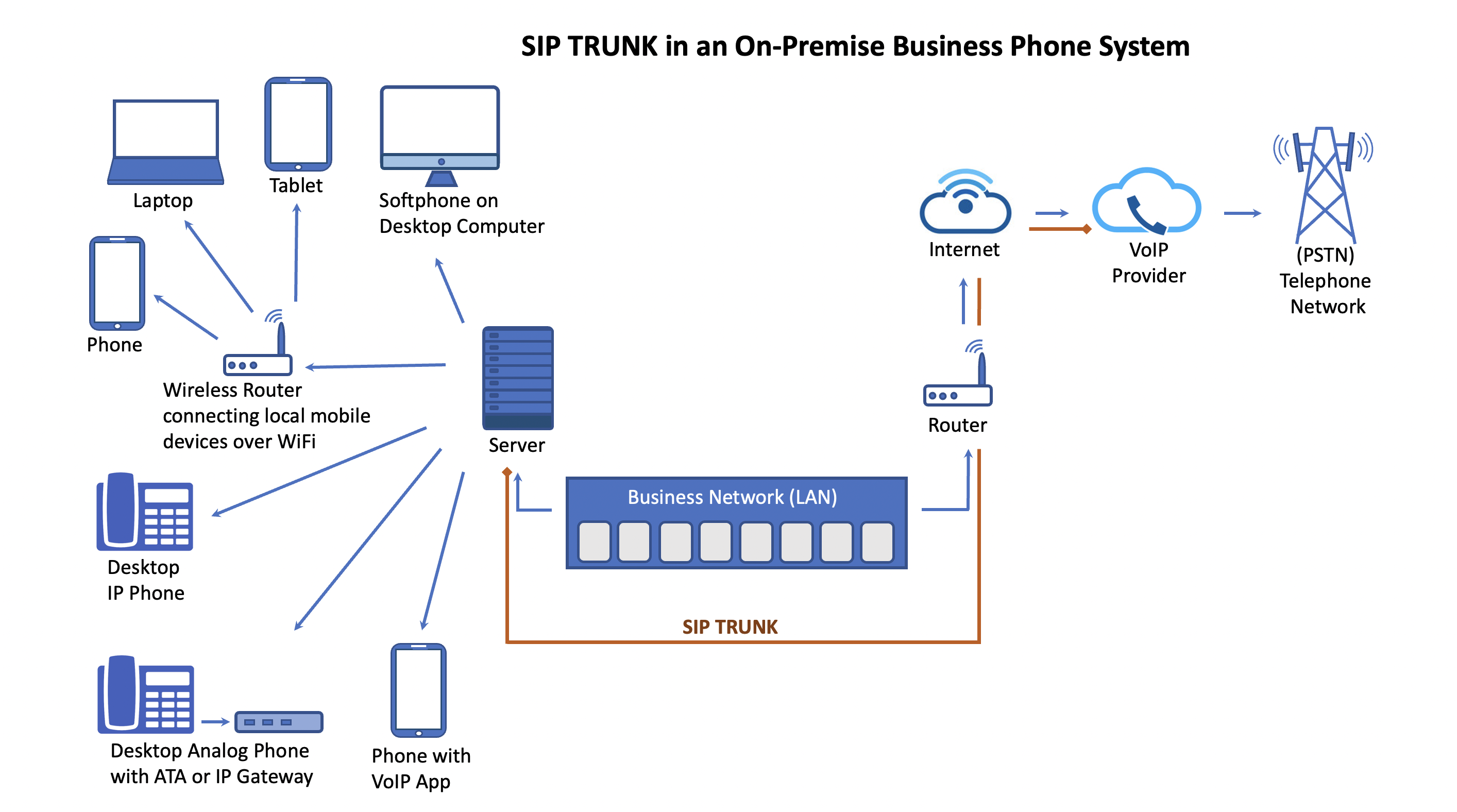 Hosted PBX vs SIP trunking: 7 Differences
| | | |
| --- | --- | --- |
| | Hosted PBX | SIP Trunking |
| 1) Initial cost of setup | Low if you have no PBX equipment on-premise | Low if you already own PBX equipment on-premise |
| 2) Ongoing costs | RM15-RM50 per phone line per month | RM20-RM50 per user per month |
| 3) Maintenance and technical expertise | Handled by your provider | Handled by your IT staff (internal expertise required) |
| 4) Your company size and expansion | Recommended for 1-500 employees, ease of expansion | Recommended for 5-500 employees, expansion to remote locations |
| 5) Geographical flexibility | Flexible and self-reliant | Often dependent on licensing and support of the PBX platform |
| 6) Call quality | Great for small- high number of concurrent calls | Great for sizeable workforce and a high volume of calls |
| 7) Security | Depends on the provider's security standards | Superior, more secure infrastructure |
Let's look at each of the main differentiators between these two options.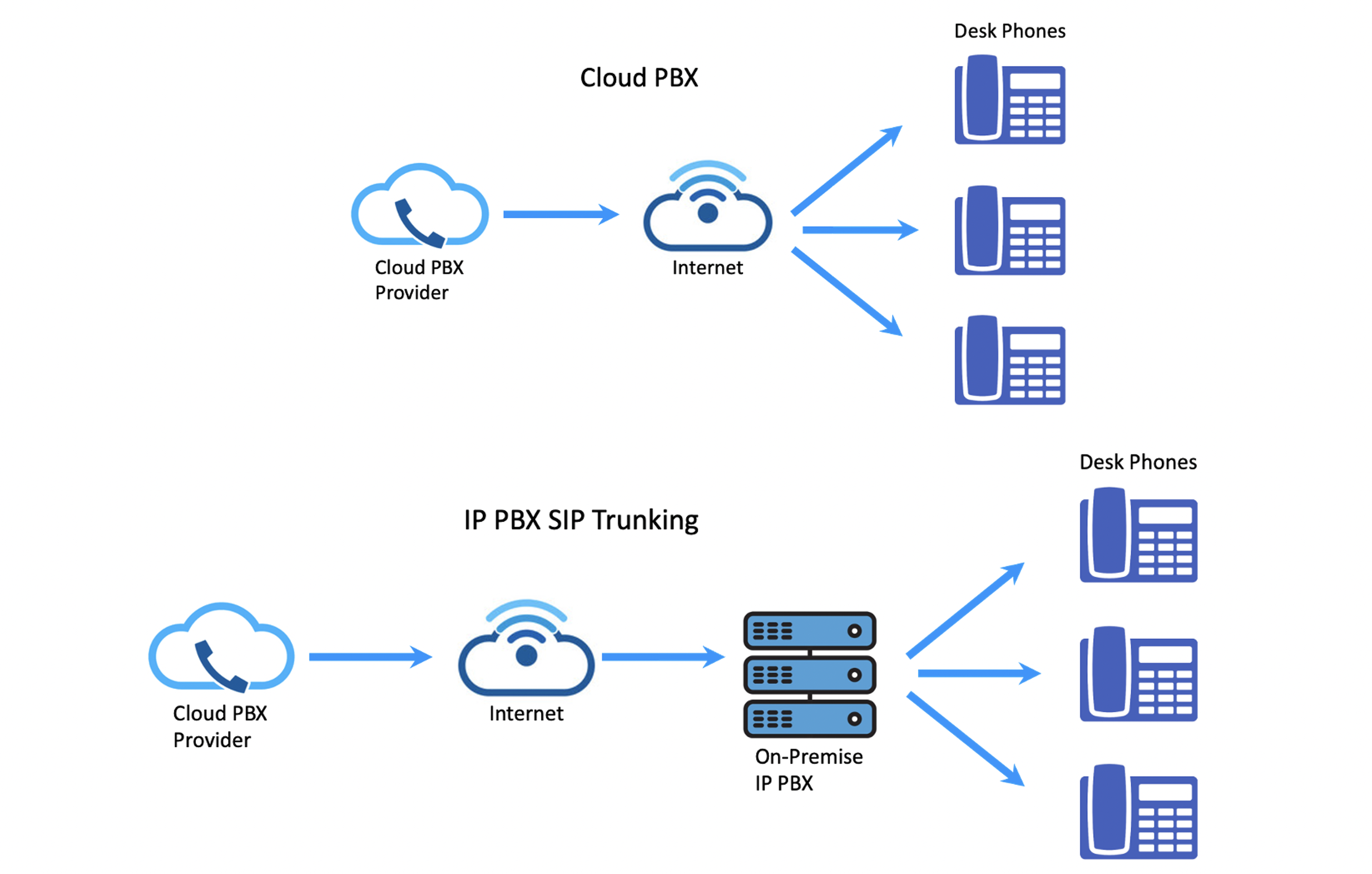 Difference #1: The initial cost of setup and hardware
The first factor to consider when it comes to cloud PBX and SIP trunking is the cost to get your setup in place.
Cloud PBX and the cost of setup
You'll need phones, routers, and a broadband service to set up a cloud PBX. What you won't need are the PBX servers. As we mentioned earlier, your service provider is the one looking after the servers.
Thanks to this setup, your phone system lives on the cloud. You save money on the initial setup as you don't need to purchase extensive hardware.
With this in mind, your setup costs with cloud PBX might sit as low as several hundred dollars.
This will depend on the number of employees that will be using a VoIP phone and their need for headsets. Routers and switches to support the infrastructure you have are another factor.
SIP trunking and the cost of setup
SIP trunking, on the other hand, comes with a different set of costs compared to hosted PBX. This especially depends on the on-premise PBX equipment you already have.
Certain costs can come from having to retire old equipment and purchase a new one.
Your legacy PBX technology that wasn't previously used for IP telephony will require a VoIP gateway in order to leverage SIP trunking. Costs of the gateway and any installation and configuration will vary.
You could pay anywhere between RM1,500 and RM10,000 for this PBX or gateway equipment investment.
Takeaway:
If you have no PBX equipment as of yet, your lowest-cost option will always be cloud PBX.
If you have on-premises PBX equipment, it may be worthwhile to look at the benefits of SIP trunking. You'll be able to repurpose a lot of the equipment you've already invested in, reducing your current PBX bill.
As a rule of thumb, always check with available providers to compare all the setup costs you may have to incur.
Difference #2: The ongoing and monthly fees
Recurring and ongoing fees are the next element you need to look into.
Cloud PBX and ongoing costs
Cloud PBX providers typically offer a range of packages and charge by the number of users and specific features. Some providers might also charge you a certain fee per minute, too.
You can expect to pay anywhere between RM10 and RM25 monthly per phone line. Depending on your provider, this may include unlimited local and international calls, too.
SIP trunking and ongoing costs
SIP trunking services can charge per channel, meaning you can make one phone call on each channel simultaneously. These are typically charged at a flat monthly rate.
Alternatively, some providers might offer two SIP trunking plans side by side. One consists of a monthly fee with an additional metered rate based on calling minutes. Another one is an unmetered monthly plan that includes unlimited calling.
At ITGTEL, we provide SIP trunking that reduces the current PBX bill by up to 70%. It includes local, toll-free, and international calls without per-minute charges.
Similarly to cloud PBX, you'll pay between RM10 and RM20 monthly per user if you choose SIP trunking.
Takeaway:
The cost of subscription turns out to be almost identical with cloud PBX and SIP trunking. Your cost will come down to your current setup and the initial costs outlined earlier.
Even though the rates may work out to be similar, remember that your monthly cost will depend on:
Being charged by SIP channel or DID number

Rates per call or per minute for calling landlines and mobile, locally and internationally, if not included in your monthly plan

Add-on features that may be charged extra, for example call recording
Keeping this in mind is extra helpful when you take the next difference into consideration.
Difference #3: Maintenance and technical expertise
With the above in mind, the next thing to keep in mind is the technical expertise and resources required to maintain the system you choose to go with.
Cloud PBX and maintenance
With cloud PBX, you'll only have to maintain internal changes. These include adding users or changing features.
Your cloud PBX service provider is the one handling server and software maintenance. They also handle any technical challenges that come up. This includes outages, disruptions, system-wide upgrades, and more.
For you, this means you won't have to hire a technician, both in-house or a contractor. You'll be able to avoid extra maintenance costs. You can make any changes you want through a web-based admin interface without having to be an expert.
SIP trunking and maintenance
When you have locally installed PBX equipment, things are a little different compared to cloud PBX.
The servers are stored on your property. Your own IT teammust look after upkeep, updates, and troubleshooting.
For you, this might include a yearly cost of an IT manager'ssalary. It's a recurring investment in their training and leveling up as technology evolves. This person will understand your on-premise setup inside and out, so quality staff is essential.
Takeaway:
Whichever option you decide to go with, make sure you know what your VoIP provider can do to guarantee as high-quality service as possible.
You need a stable business phone system for your company to operate smoothly. Any investment you can make to ensure that will be worth it — it all comes down to budget and resources available to you.
Difference #4: The effect of your company's (potential) expansion
Another crucial factor is your size. Are you at 5 or 5,000 employees? What will that number be in the future?
Furthermore, analyze if your company has remote or on-the-move staff. If so, your business communicationmust be available safely and reliably wherever they are.
Cloud PBX and your company size
The general consensus: small businesses will make the best decision if they take the cloud PBX route in most cases.
This is particularly true if they have up to 500 employees, they're self-contained, and are based in a single location. If that sounds like you, you can implement cloud PBX and enjoy a high-quality telephony cost at an affordable rate.
Cloud PBX is also the ideal option only if you're expanding rapidly. But if you're starting small (and likely without PBX equipment) and are likely to stay that way, cloud PBX is the way to go.
SIP trunking and your company size
If your company has more than 500 employees, you'll benefit greatly from the flexibility and VoIP security that comes with SIP trunking.
Larger businesses are also likely to already own PBX equipment and reuse the investments they've already made. They're also often capable to absorb initial start-up costs.
Finally, SIP trunks will allow you to choose the exact number of channels that you need. This isn't the case with other technologies such as ISDN, where you'd have to add 15 or 30 lines at a time.
Takeaway:
To identify the best solution, take note of the following factors in your company:
Current number of employees

Current number of locations

Planned number of employees and their locations in the future

Current on-premise PBX equipment
Difference #5: Geographical flexibility
Right after the question of expansion comes the matter of location.
Here's what you need to consider if you:
Are based in more than one location (or are looking to take that route in the future)

Have remote employees

Your workforce travels often
Cloud PBX and geographical flexibility
A cloud PBX enables your employees to access your phone system even when away, such as when traveling or working from home.
This is possible because your phone system runs through an internet connection. As long as they have access to the internet, your staff can use features such as web phones, VoIP apps, and softphones to make and receive calls.
SIP trunking and geographical flexibility
SIP trunking offers this flexibility on a larger scale, with unlimited connectivity.
With SIP trunking, you can support the work of remote and mobile workers. A good SIP provider will equip home office workers with a dedicated home phone mapped to their work number. This way, they can receive calls to their extension at home.
From a customer perspective, your customers will be able to reach anyone they need with a single phone number.
Takeaway:
Both options are a good solution for remote employees across a large geographical area. Cloud PBX will provide more apps available on multiple platforms (such as iOS, Android, Mac, Windows). Your employees can still use their phone service remotely and don't depend on IT staff in case of technical issues.
Some SIP trunking solutions provide this as well but is dependent on licensing and support of the PBX platform.
Difference #6: Call quality
VoIP comes with the advantage of call quality that's as good or even better than the one that comes with traditional phone lines.
However, there's a difference in the behind-the-scenes setup of hosted PBX and SIP trunking specific to call quality, and here's what you need to know.
Cloud PBX and call quality
Although VoIP has become a reliable solution over the recent years, there are issues it comes with. The biggest one stems from unreliable internet connectivity.
With a cloud PBX solution, everything happens through your internet connection. Unstable connectivity or an outage can be detrimental to your business. With the availability of multiple internet connection users are able to switch to an alternative connection to resolve the situation.
For cloud PBX to provide stable, quality sound on your phone calls, you need to know:
How many concurrent calls will your business experience at peak days and hours?

What codec does your

cloud phone service

provider use?
As a rule of thumb, you'll need around 85 to 100 kilobits of data for each concurrent call. If your company expects five concurrent calls at peak hours, high call quality is only possible if your connection with an upload speed of 500 kilobits per second (kbps).
If the number is closer to 30 calls at once, you'll need an internet connection with an upload speed of at least 3 megabits per second (Mbps).
Finally, remember that wired connectivity will always provide a better internet connection than wireless.
SIP trunking and call quality
With SIP trunking, you're leveraging your existing IP network to ensure high call quality.
This is where SIP trunking shines. Does your company have a sizable workforce and experiences a high volume of calls? SIP trunking allows you to use a dedicated line or have a backup connection that you can switch to if necessary.
That's how SIP trunking can guarantee extraordinary call quality.
The key is to select a SIP trunking provider that uses only Carrier networks. This is the only grade of carrier networks that can connect directly to the backbone of the internet. It allows for the highest possible call quality and reliability.
Takeaway:
The focus on call quality directly adds to the earlier discussed company size, requirements, and potential to expand in the future. Start by analyzing the power of your internet connection and the number of calls that happen at the same time in any given moment.
Analyze these numbers based on the above recommendations to identify the setup you'll need to maintain the highest quality of calls.
Difference #7: Security
Security is one of the main concerns companies have when it comes to switching to VoIP. Such concerns are common whenever it comes to online data in general.
Here's how cloud PBX and SIP trunking compare when it comes to keeping your communication systems secure.
Cloud PBX and security
The security of cloud PBX can be compromised as cloud PBX leaves ports open. The Cloud PBX provider will have implemented firewalls and secure their networks. ITGTEL's cloud PBX comes with secure authentication via QRCodes for Mobile Apps. The client's account is also enabled with TOPSTOP (Call Credit Limit) that minimises the client's liability if their user's account is compromised.
Just like with many other elements of having a provider host and taking care of your PBX setup, you rely on their solution when it comes to security, too.
In other words, they are in charge of maintaining a compliant and secure environment. Your cloud PBX system depends on the security standards that they have implemented across the board.
SIP trunking and security
SIP trunking is able to offer superior security as it can run a dedicated connection to you, instead of over the public internet.
The security of your SIP trunking setup will depend on your own security policy and how well you meet and maintain your security standards.
SIP trunking provides a more secure infrastructure thanks to redundant components and backup systems. Keep in mind your company is the one that has to deal with cybersecurity incidents and ensure compliance.
Takeaway:
Limited staff, budget, and other resources may be the limiting factor around security for your VoIP setup.
When making your decision, talk to your potential providers about their processes. These include ensuring maximum security, such as call encryption, redundant carriers, and more.
How Do You Know What's Right for You?
Now that we've walked you through all the differences between cloud PBX and SIP trunking, it's time to make a decision.
Both services come with many features and benefits that often overlap. Both are the foundation of a modern and reliable VoIP network.
Here's a rundown of key questions to answer so you can find the best option for you:
What is the current size of your business and will that change? Do you plan to expand?

Do you have PBX equipment in place already?

What level of flexibility with your phone system are you looking for?
SIP trunking is the more commonly selected option. It offers increased security, long-term cost efficiency, flexibility, and quality of service. This particularly applies to medium to large enterprises.
Investigate both options — it pays off to take that time. You'll be sure you're making well-informed decisions from a technical, financial, and logistics perspective. You should look at cost efficiency on a long-term scale, especially when looking at setup costs.
With our SIP trunking platform, you can make the most of your business communications and get crystal-clear audio. You'll also reduce your current bill and stop paying for each minute you call.
All that with no disruption to your service. Imagine an efficient and empowered customer support team on one side and happy customers on the other.
This is exactly what a feature-rich IP-based system will bring you. Sounds like what you're looking for? Get in touch so that your communications setup can scale with you.