What is a Cloud VoIP PBX?
The evolution of business telecom technology is the Cloud VoIP PBX. This technology provides small, medium-sized, and enterprise organizations with a sophisticated telephone system, while minimizing equipment costs. In fact, MyVOIP operates, maintains and upgrades your entire telephone system. A Cloud VoIP PBX from MyVOIP lets employees work from remote offices, a hotel, or on their cell phone while remaining connected to the same office VoIP telephone system. Just like a Fortune 500 telephone system, you can transfer callers, put them on hold with music, set up VoIP conference calls or have the VoIP phone answered by an automated attendant who can direct callers to different departments.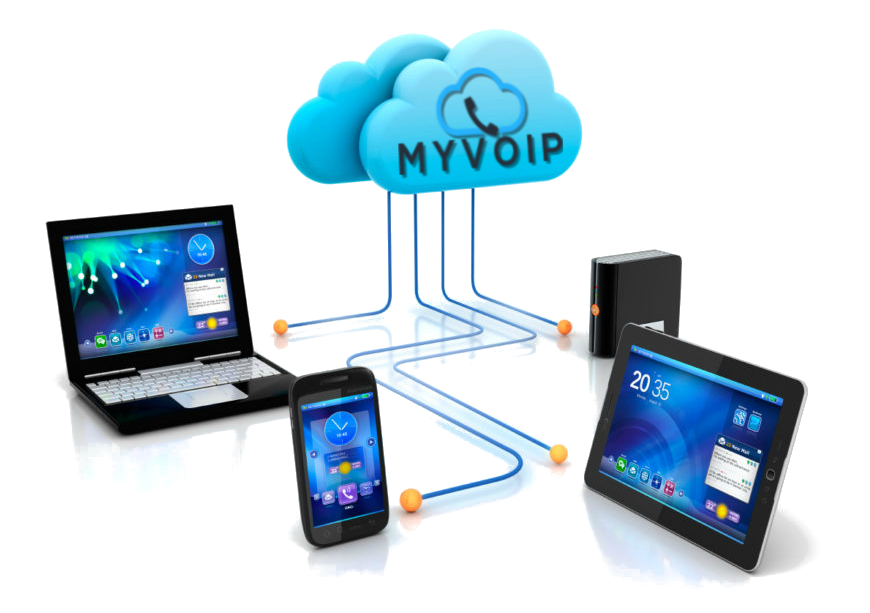 Key concepts behind a Cloud VoIP PBX service:
Your provider "hosts" or operates your VoIP telephone system
The system works with your existing telephone service, or completely replaces it
MyVOIP's service operates on many devices, including mobile phones, desk VoIP phones, and landlines
Complete with a full suite of features at a price every company will love, our Cloud VoIP PBX is the VoIP phone service designed for your business. MyVOIP easily scales to meet the needs of any business. Whether it's a single user at a home office or a multi-user, commercial-grade call center, we provide a complete solution customized for your individual business needs.
Our services include Virtual VoIP telephone numbers, local and long-distance calling and over 80 powerful and customizable features. The feature VoIP list provides auto-attendants, call queues, VoIP conference calling and much more. We offer companies with multiple locations the ability to operate under one umbrella. As a result, our clients and Partners enjoy increased productivity and reduced resource requirements. Due to these advances, your staff can work in regional offices, remotely, or any location globally with our easy-to-use, plug and play Cloud VoIP PBX solution.
The Benefits of a Cloud VoIP PBX
There are a number of key advantages to using a Cloud VoIP PBX versus traditional telephone service or purchasing an office telephone system.
Initial Cost Savings– You do not need to make a large upfront investment by purchasing an office telephone system and there is no need to maintain it. With a Cloud VoIP PBX solution the office VoIP telephone system is operated and maintained by your VoIP provider.
Ongoing Cost Savings– Typically, a Cloud VoIP PBX implementation is significantly more cost-effective over the long run than a traditional PBX. These ongoing savings are in addition to the initial savings on capital outlay.
Geographical Flexibility– Employees can work from anywhere when your office VoIP phone system is virtual. You can have employees working from home, other offices, mobile phones, and even overseas.
Local Presence– Cloud VoIP PBX systems allow you to get local virtual VoIP numbers in cities where you are not physically located which allows you to create a virtual presence or open a virtual office in Malaysia, Singapore, Thailand, Philippines, Hong Kong, US or the UK.
Credibility– For small businesses a virtual VoIP system can give them instant credibility by presenting their customers with a professional sounding VoIP telephone solution. Traditional telephone systems are generally cost-prohibitive for smaller organizations.
Scalability– Traditional phone systems are limited by how many users they can handle as well as how many lines you have purchased from your local telephone provider. Virtual VoIP systems can expand and grow with your business as you need them to.
Quick Setup– A Cloud VoIP PBX solution can have you up and running very quickly compared to a traditional telephone system.
Ease of Use– End-user management of a Cloud VoIP PBX is far more user-friendly than is the case with traditional solutions. Intuitive web interfaces mean that anyone can manage, monitor and make changes to the service at any time, without needing any specialized skills or experience.
Cloud VoIP PBX Features
Our cloud-based service VoIP PBX provides a wealth of powerful features, many of which are included at no additional cost. Below is a categorized list of some of the most popular features.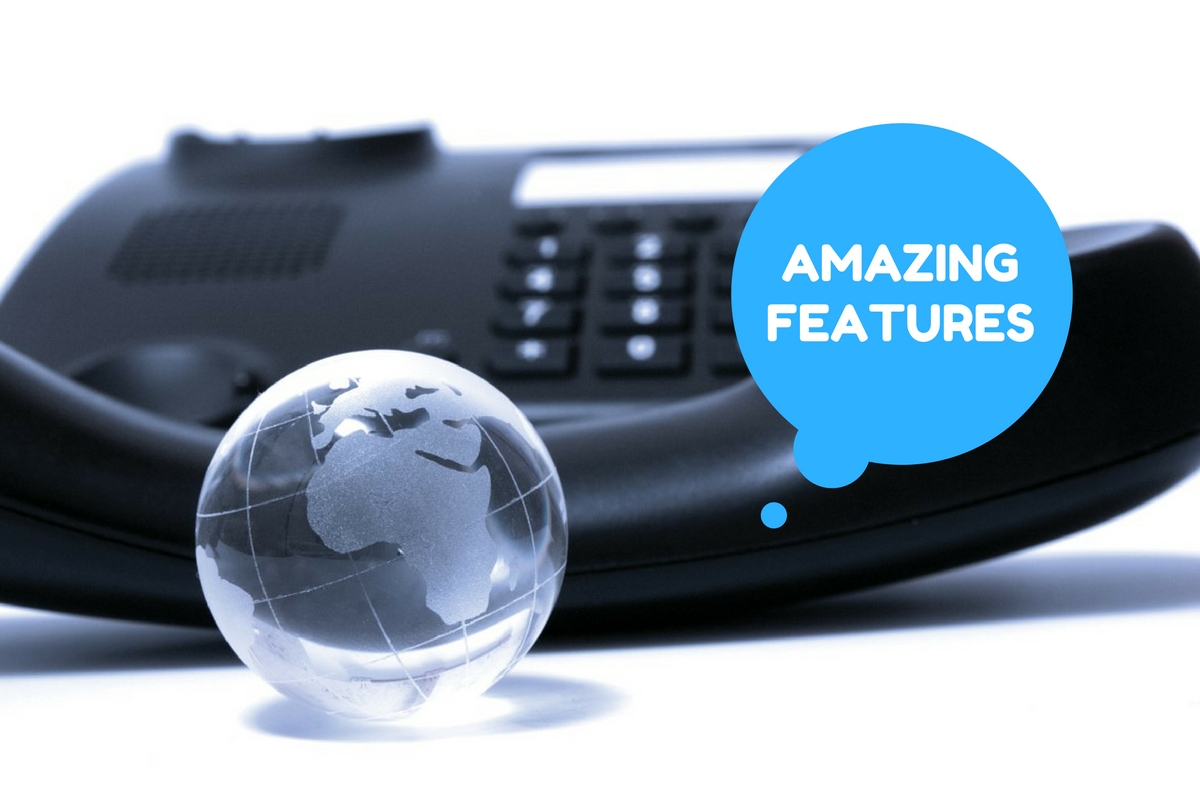 Cost Savings
Work Anywhere
Company Image
Enhance Productivity
Usage Example
A customer calls your toll-free or local phone number and the call is answered either by your receptionist or an automated greeting. You can even have multiple receptionists in different geographical locations answering your incoming calls. If the receptionist is not available and an automated greeting answers the VoIP phone call, customers can choose to dial an extension, a specific department, listen to product information or use the dial-by-name directory. One of the great benefits of a Cloud VoIP PBX system is that employees can be working in different geographical locations. For instance, an employee working from home in New York can transfer a caller to technical support which is located in Toronto, Canada. Employees can answer calls from their cell phones, on a laptop, from their home or anywhere with a traditional landline or internet connection for business Voice-over-IP (VoIP).
What equipment or service can I use?
Let us go over a few of the ways that a Cloud VoIP PBX can be used to replace your
current telephone service or work in conjunction with it.
Keep your existing landlines– You might choose to keep your existing telephone lines and have calls forwarded from the Cloud VoIP PBX service to these telephone lines. For instance when someone calls the "sales" department, the Cloud VoIP PBX service could simultaneously call Bob and Anne's traditional telephone lines. This implementation may not be ideal as it generally means that the total cost of your phone solution is higher, because you have to pay for the Cloud VoIP PBX service and the traditional telephone lines.
Use mobile telephones– Many companies have employees who are outside of the office most of the time (real estate agents for instance) and would prefer to receive their calls on their mobile telephones. Calls from the Cloud VoIP PBX service can be forwarded to your cell phone and many Cloud VoIP PBX services allow you to choose to send a caller to voicemail or transfer the call to another extension (which might be another cell phone).
Use voice-over-IP– Some Cloud VoIP PBX services, such as MyVOIP, are bundled with VoIP service. This is usually the optimal solution as it eliminates the need to have a telephone line with your local telephone carrier to make and receive calls. You can choose to use multi-line digital office VoIP telephones that plug directly into your internet connection. Typically there are also options for using VoIP soft phones which are computer programs that simulate a business VoIP telephone on your desktop so you can make and receive calls using a USB headset.
Use smartphone apps– Smartphones allow companies to better integrate mobile employees into the company's service. Apps such as Grandstream Wave - Video for iPhone or Android are relatively new developments in the industry, allows employees' smartphones to behave in the same manner as desktop VoIP phones in the main office. As an example, the smartphone can display the company's caller ID when placing outgoing calls, rather than the caller ID of the smartphone itself. The use of a smartphone app also means that calls do not need to be forwarded to the smartphone; the device will inherently make and receive calls as if it was a desk VoIP phone. Smartphone apps can work well for mobile users while employees in the company's physical office can use VoIP desk phones. The two approaches complement each other and can be easily used in conjunction.